The Downworlders will launch three separate campaigns as their initial attack. One on the 'present' Past universe, one on the Pioneer universe, and the last on the Advanced Future (Abandoned) universe. You can kinda tell how the third will turn out, but their combination of dark-matter generators and technology will prove to be a formidable foe. This will be the Downwolders futuristic forces, composed of mainly automated mechanic armies.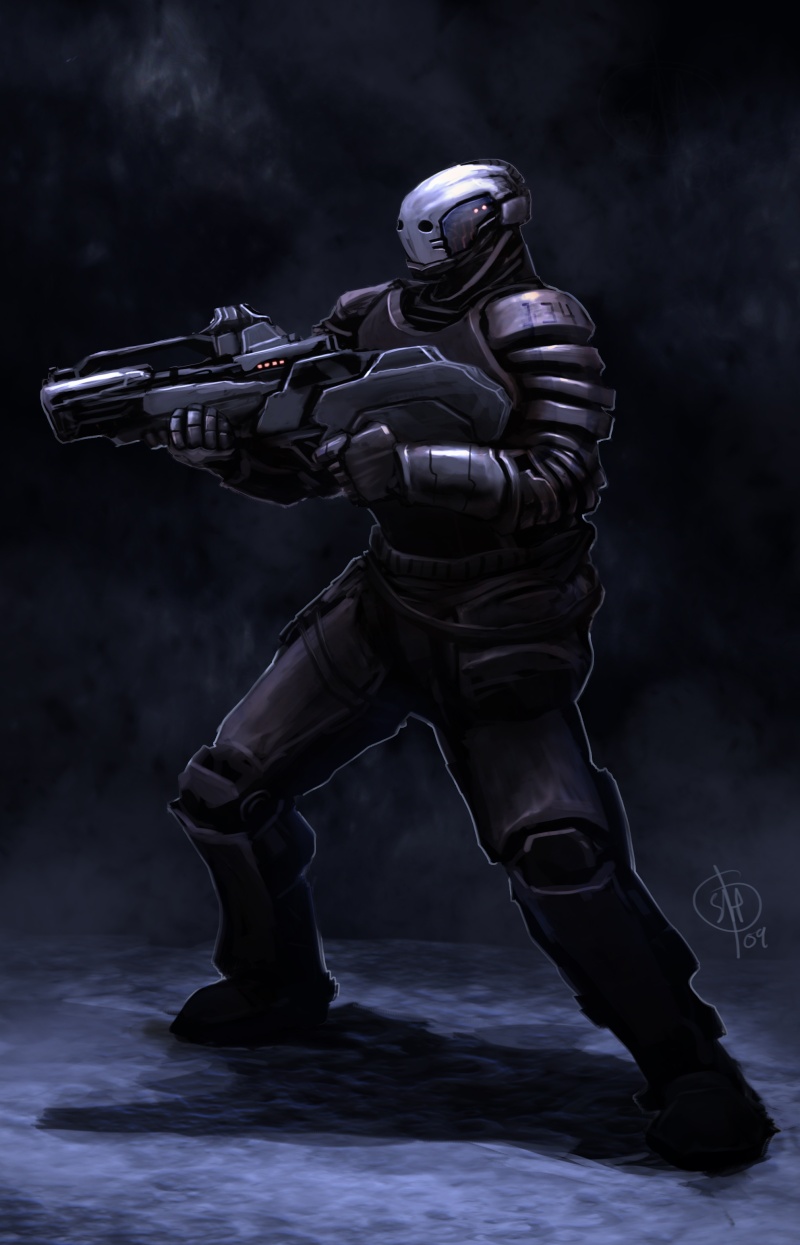 Automated Android Trooper
If you're a good shot or you have enough ammo, you just might have a chance to destroy these with conventional weapons and rounds. Armor-piercing rounds would probably do a fair amount of damage, obviously.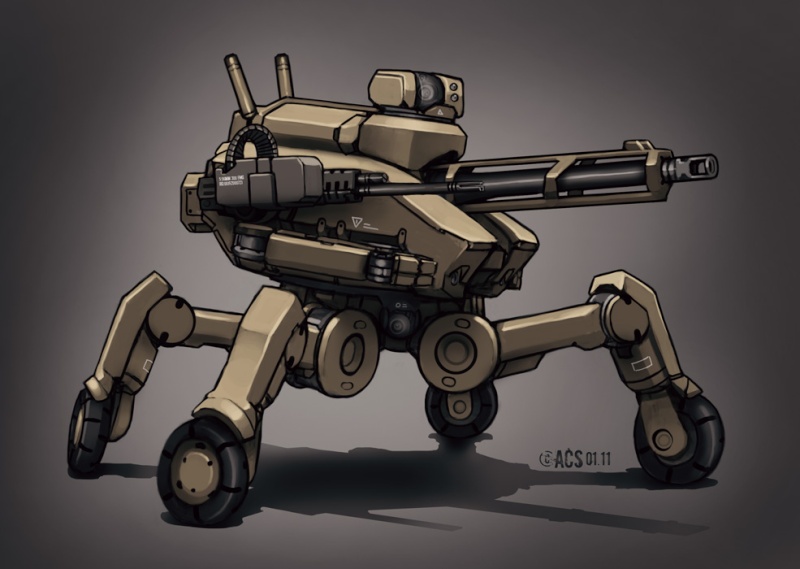 Automated Multi-Role Drone
This drone combines anti-infantry with light anti-armor capabilities, though with coordinated firepower these shouldn't be much of a threat. However, they are certainly more agile and portable than any tank, and in numbers can be more than just an annoyance.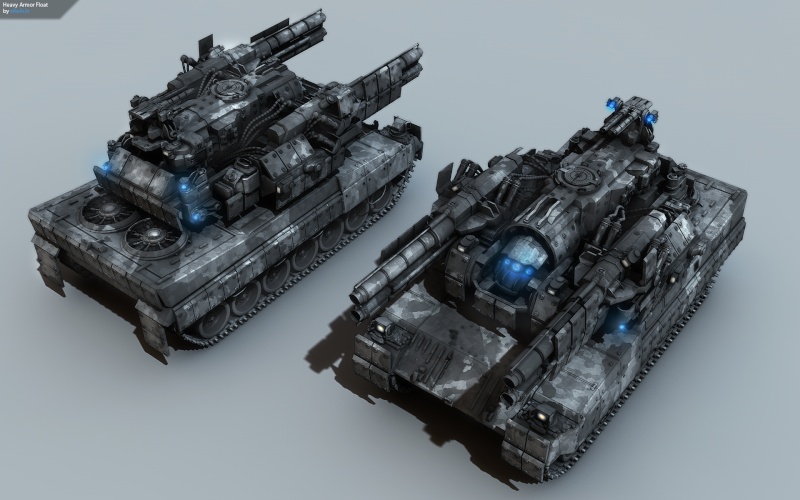 Automated Heavy Tank
Though short-ranged, anything within range can be easily decimated if left unchecked. If scanned, it will show there is a severe flaw on both of the sides, and this flaw can be exposed by high-explosive rounds.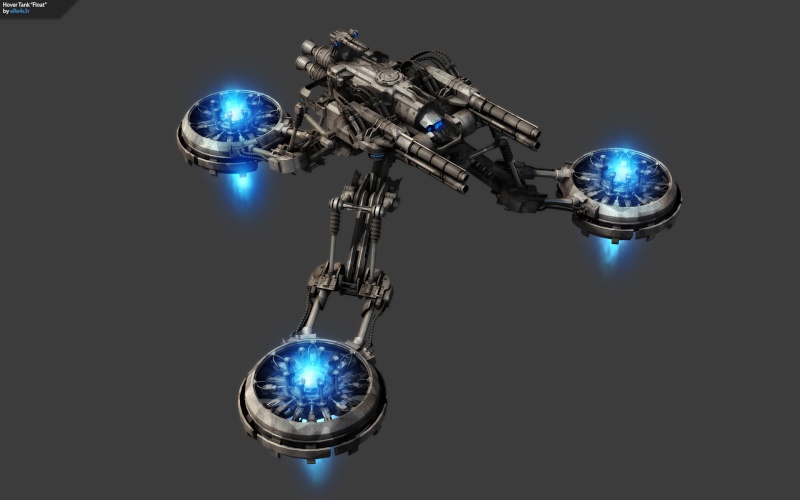 Automated Flying Chassis
Who would've thought of sticking three antigravity cores and a jet rocket on a tank chassis? Apparently the Downworlders have. And now, being three times faster than a heavy tank, it is a whole new problem altogether. The Flying Chassis has overwhelmingly superior speed and mobility but decreased armor.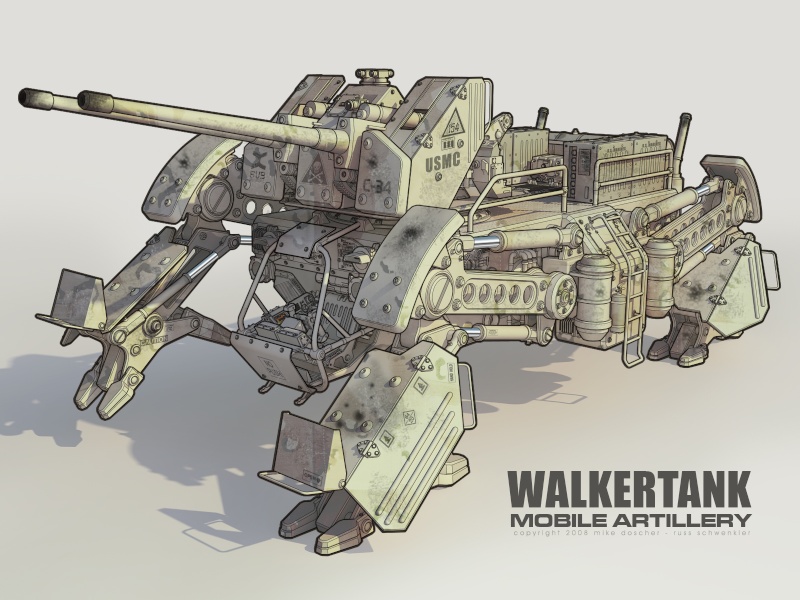 Automated Heavy Artillery
Despite having very little in terms of armor, the sheer range of these artillery pieces can often eliminate that weakness altogether. Any fortifications backed by these artillery are not going to be easy to get past.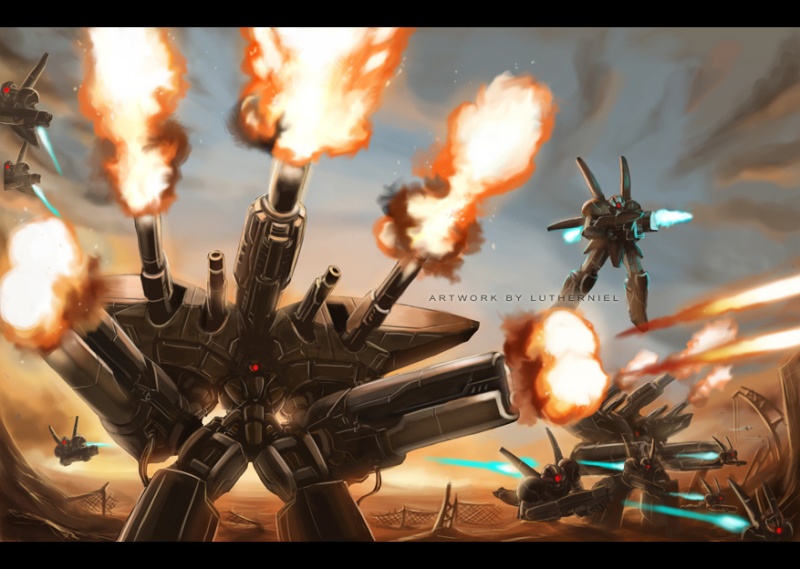 Automated "Shipwreaker" Anti-Armor Mech
This defines "BFG" with five BFGs of its own, one of which can tear a cruiser in two with a precise shot, shields and all. If not presented with a large target, however, this is easy prey to fighters and bombers because of its size and immobility.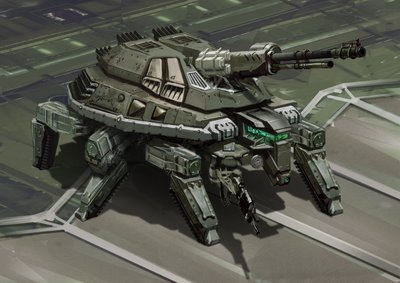 Walker-Type Mobile Command Center
A central command center on the front, its main cannon can add additional support fire on the enemy while directing troops in battle. engaging this behemoth is no easy task-it alone has several missile and machine gun emplacements, as well as heavy shielding and chassis systems. These weapons, though, should be the least of your worries compared to their escorts.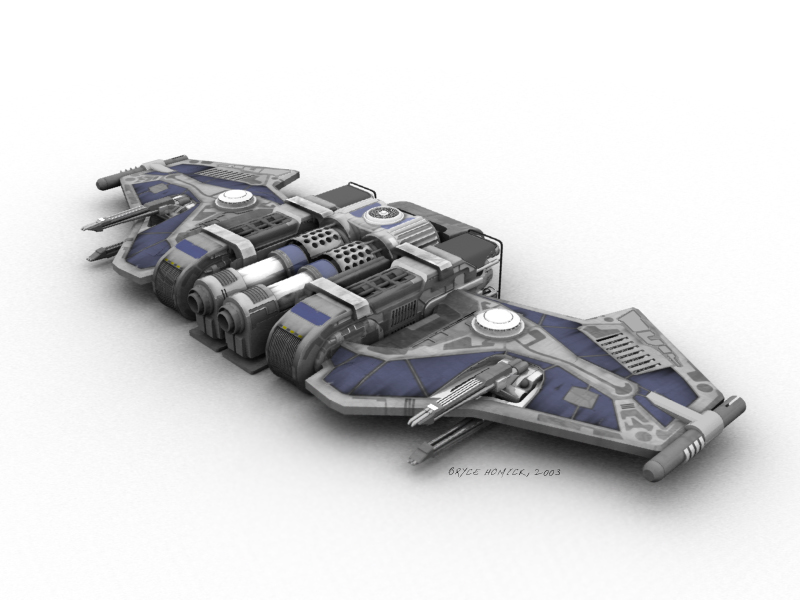 Automated Fighter
Armed with two pulse cannons and four heavy railguns, the Automated fighters don't have any lock-on weaponry, but can deal just as much damage with their no-ammo ice/plasma weapons. Trust me, ice might not sound dangerous in fighter combat but I beg to differ when they're sent at 3000 mps.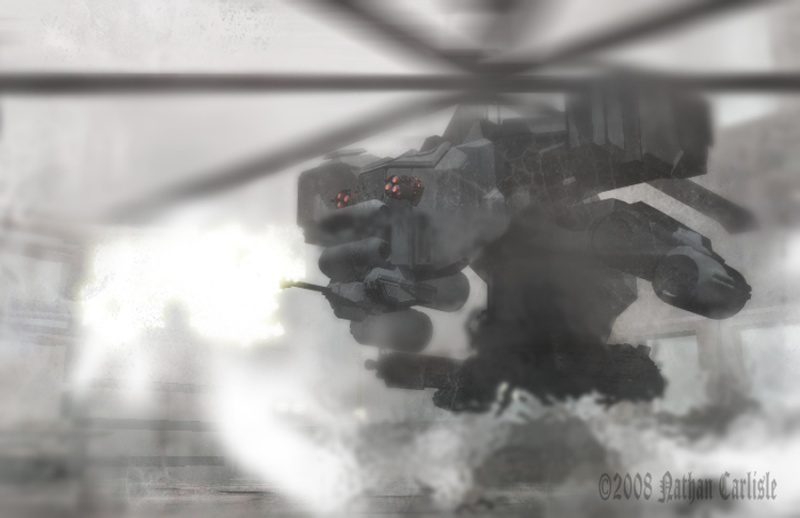 Automated Gunship
Essentially an overpowered gunship, these are nightmares to face unless you've got heavy AA on hand. They can work through any kind of ground armor and decimate infantry if allowed to run amok.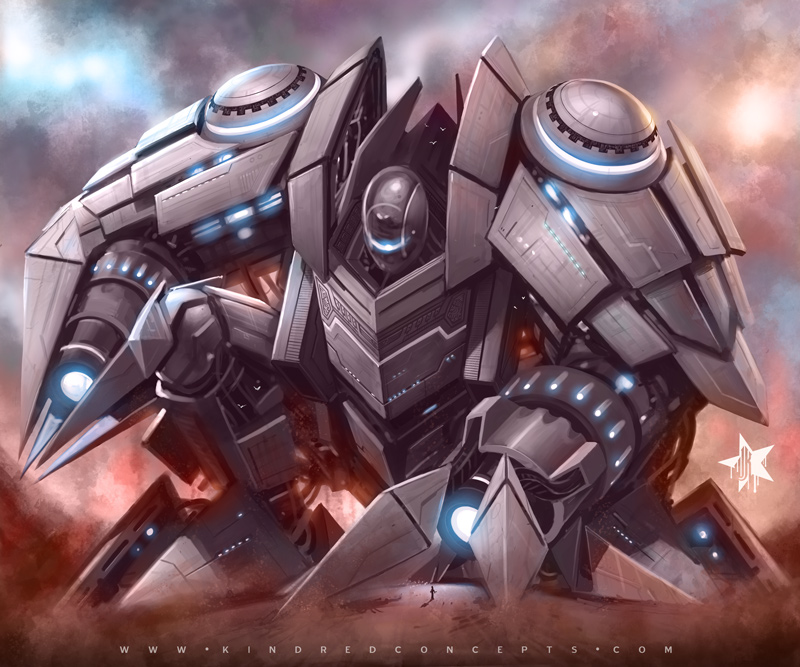 Transforming Frigate (Mech form)
A seriously oversized mech the height of the Empire State Building, it will spell your ultimate demise if you lack air support or orbital support. In the end, it will take a lot of high explosives to take it down if you don't target its weakness, which I will leave to you to find.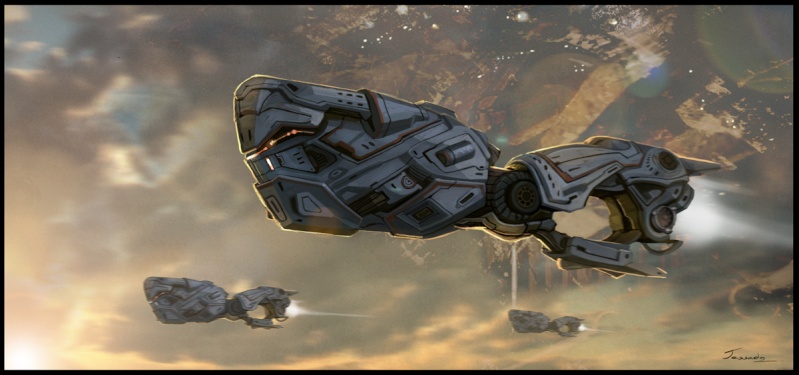 Transforming Frigate (Ship form)
The Downworlder's Frigates can subsitute for both destroyers and cruisers. Very fast and agile for their size, they suffer from a lack of turrets but makes it up with its ramming capabilities, which can deal more damage to shields than you might imagine at first.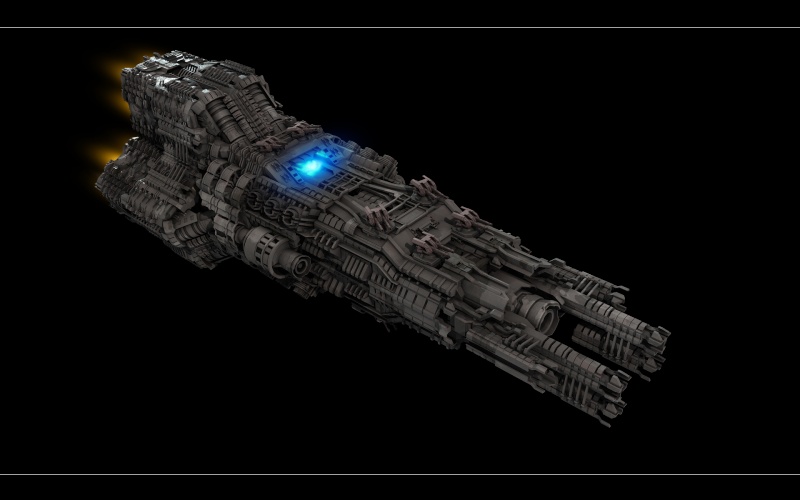 Heavy Battlecruiser
Able to deal impressive damage in a short period of time, Battlecruisers are heavily armored and shielded, and can improvise as carriers. The single downside is that these Battlecruisers are very slow, and again I'll leave it to you to find its weakness(es). If lacking the firepower, it will take a large part on the opposite half to bring down a number of these powerful crafts.