All information on this topic is subjected to changes; this is a continuous work in progress!!
External Note: This is merely an unorganized dump and collection of Erutios locations, creatures, and etc. Factions are in a different topic.
External Note 2: If you're not K with completely and blatantly overpowered characters running amok, stop here. This theme has several on the level of gods and are close to nigh-unstoppable.
The Rundown
"The decision? It has always been yours."
Basic Geography
Erutios is split into five separate super-continents;
-MAJIN
In its historical past Majin was a lush, green, somewhat mountainous continent that was ideal for nurturing life. This continent is where the first humans recorded their actions and expanded into the rest of the world. After the Crimson Age, though, the land was reduced to a volcanic wasteland, which presents riches and offsets of its own.
A fiery continent dotted with volcanoes, Majin is a highly unstable continent constantly in a state of reconstruction simply due to the number of active volcanoes that make up a large portion of the landscape. Highly inhospitable and often filled with noxious gases of the geysers, the inhabitants have developed a number of methods of protecting themselves, from simple everyday breathers to advanced excavation powersuits.
From this fiery hell is a wonderful respite; Majin is absolutely flourishing with mineral and ore deposits, as well as having the most fertile lands on the planet due to its volcanic nature. Due to the constant volcanic activities, however, there are few locations where permanent farms can be established, and most of the smaller family-run farms are on a need-to-move basis based on the volcanic activity, resulting in very inconsistent harvests.
-JIRMUSHI
A frozen tundra wasteland, Jirmushi has been, and still is one of Erutios's most inhospitable lands. With temperatures dropping down to nearly -100 degrees Celsius in some zones and valleys, the people who live here have a reputation of being some of the toughest men and women on the planet. The mountainous lands hold a fair amount of resources that are notoriously difficult to access and farming is heavily restricted to areas that have been terraformed and have active heating. However, even here, the inhbitants have found their own ways of surviving, with sparse villages and towns tucked away in some of the quieter corners of the continent. The icy land has also resulted in somewhat unpredictable landscapes, as sometimes the ice glazes over bodies of water, and the water draining at a later date leaving what is called a hollow ice pocket. These hollow ice pockets are notorious as it is the cause of countless deaths over the centuries and sometimes hide hidden treasures from the common eye. The frequent and often daily blizzards also provide enormous amounts of energy to the mages of the land, allowing to keep their friends, family and nation floating in these turbulent, deadly lands.
-MU-ARISHI
The largest of all continents, Mu-Arishi is the origin continent of many of the non-human races of Erutios. Like Majin before its enviromental falling out, Mu-Arishi is an abundance of land ripe with life. Today, Mu-Arishi is the single greatest producer of foods, totalling 86% of global agriculture and livestock. In terms of resource, it has a fair amount of resources but incomparable to Majin. Its scarcer resources have the humans living on it striving to adapt new technologies before other nations in order to make up for their lack of raw materials. Otherwise, Mu-Arishi is a very comfortable place to live, a small surprise given the size of all of the races' population on this continent alone.
-HAKARI
Though both Majin and Jirmushi have fair amounts of mountains and mountain ranges, neither continent can hold a candle to the mountains of Hakari as several peaks exceed 10,000 meters above sea level. Hidden in these mountains is a small wealth of natural resources, including the highly prized and elusive Source Crystals. These mountains, though, are near-impossible to access for a number of reasons: One, the Forest Elves do not permit humans into the forests under normal circumstances. Two, the rugged and steep mountains would turn away all but the most ambitious, crazy, or dumbest of people. Three, the most prized of resources are only found in the deepest parts of the continent, in the heart of its dangers, wilderness, and secrets. Hakari is by far the most mysterious of continents, guarding a plethora of unknowns and treasures that one could only dream for, as this land has so many obstacles to it that many brave adventurers never return from this land.
-KANSHIN
Kanshin used to be part of the Hakari Continent, but after the Crimson Age, the area quickly dissolved into sand and barren rock, as if some unknown force had punctured the ecosystem and drained it of all its life. The deserts of Kanshin are now mostly empty, barren and of course, dry. But in these sands are some unexpected gems; a large supply of underground water and raw resources that rival Mu-Arishi's reserves. In addition, treasure hunters regularly frequent the two Dunes of Kanshin in search of artifacts that could net them a fortune. Otherwise, Kanshin has little to offer, despite now being the home of humans and Dark Elves.
Available Races:
~Humans
The most prosperous and largest of all races on Erutios, the humans have expanded from their ancient homeworld of Majin to become the dominant race of the planet even before the Crimson Age. Humans tend to become the jack-of-all-stats due to their nature of being able to delve deeply into all types of arts, both martial and magical. This sort of position makes it very difficult for the talented but will-less to become a true leading figure in this inhospitable world.
Once a friendly and welcoming race to all, the Crimson Age has warped humans into becoming extremely racial against all of the non-human races of Erutios, referring to them all as "sub-humans." This arrogance has destroyed the trust between almost all non-human and humans, though there is little the non-human races can do; humankind number in the trillions, and even all of the non-human races together, the humans outnumber them all one-to-one million. If the other races were to cleanse humankind, would they not have become what their oppressors are?
~Elves (Forest/Dark)
Elves have lived on the Mu-Arishi and Hakari continents long before the arrival of the humans to this planet. As expected, they are creatures with a great affinity for magic, though the modern situation of the world has forced them to adapt to radical new ways to survive. Formerly, there were also the High Elves, who lived in true civilized organizations, but were completely annihilated during Vashyli's Blue Crusade.
Forest Elves still remain in their forested, mountainous homes of Hakari as the continent has proven itself to be easily and readily defensible in the case of human attack, and have adapted the entire ecosystem to their defenses. Forest Elves also have support in the form of the mysterious Casugari, and when the two races unite in defense, Hakari can become an essentially impregnable fortress unto itself.
Dark Elves have dark skins as a reminder of the evils and atrocities they have committed in the history of the Elves, long before the Crimson Age. Being persecuted by their elven cousins, the Dark Elves started developing into nomadic, isolated societies. After the Crimson Age, the Dark Elves have decided that their old ways would not sustain themselves, having seen the fate of their High Elf brethren and strived to become integrated into human society as a means of surviving. As such, they have found themselves as part of the ruling caste of the Republic of Sand, where the inhabitants of the desert have embraced these dark-skinned Elves as their own.
~Nekos
Nekos are humanoids with cat-like ears and tails, renown for their incredible agility and dexterity. Nekos have been wanderers for their whole history, not adapting to a written language until the debut of the humans on the western continents. Even after the arrival of the humans, the Neko had some difficulty settling down and so, some Neko retained their nomadic ways.
Nekos in the modern day often stay away from settlements for fears of prosecution by humans, or hire themselves out as mercenaries to try and win some respect from the humans. For the most part, Nekos have reverted to their old Normatic ways, becoming recluses that trust almost nobody save themselves and some other members of the other minor races.
~Inus
Inus are the dog-like counterparts to the Nekos, famous for their strength and hardiness. From the beginning they have been tribal people, grouped together in small villages that dotted Mu-Arishi. The arrival of the humans did not bode well for the territorial Inu tribes, who often engaged in open conflicts with human settlers and later, human military and paramilitary forces.
During the Crimson Age, the Inu thoroughly impressed the human nations with their resolve and will not to be dominated or destroyed, resisting and sometimes even achieving a tiny victory despite impossible odds. This lasting impression makes the Inu the only non-human race that the militaries of the world respects as equals, and the Inu have made the field of mercenaries into a full-time career. Now, the Inu are some of the best mercenaries that one can hire.
Today, there are three primary tribes of Inus:
-The Inubaka tribe, centered in Mu-Arishi; The smartest and wittiest tribe.
-The Inuaru tribe, centered in Majin; The most magically attuned tribe.
-The Inubashiri tribe, centered in Jirmushi; The toughest and strongest tribe.
~Merfolk
~Bird Tengu
~Undead
~Dragons
~Phoenixes
Though magics are used on Erutios, keep in mind it is massively limited for unknown reasons. Normal humans gathering enough magic from scarce areas is next to impossible. Also, magics is heavily limited in healing; instead of simply healing, like the people of other magic-using universes would do, extensive medical knowledge is required before healing should even be attempted if it's more than a minor injury. Healing in Erutios requires knowledge as the process of magical healing must be manually guided by the healer, and thus someone without medical knowledge could just as likely perform a proper healing as causing more damage or even result in a new, fatal injury.
Teleportation takes enormous mathematical work, and is extremely annoying to use. A simple error will send you into a completely different area of the planet altogether if one screws up in mid-teleportation.
Magical power is extremely scarce on Erutios, and the three ways possible to obtain Magical energy is by converting Death energies, by using a Source Crystal, or by sapping energy from a natural event.
-Death energies is the second best way to obtain magical energy. The downside is that a large quantity of death energy is required for even the most basic spells. The upside is that, due to Erutios' current state, that shouldn't be a problem whatsoever.
-Source Crystals contain raw magical power, and is the most direct way of obtaining and using magic. The downside is that natural Source Crystals are extremely rare, and that artificially-created Source Crystals are extremely unstable in nature and contain a lot less magical power than natural Crystals.
-Sapping energy from a natural event is the least favorable way of harnessing magical energy. Not only is it tiring, the process is extremely slow and only extreme events, such as a blizzard or firestorm, will yield even the slightest magical energy.
As well, any creature or being other than humans are heavily restricted.
-Phoenixes and magical creatures/beings are unable to generate large quantities of magic. They can, however, store magical energy like a reservoir though they can store a very limited amount than they originally can.
-Elemental phoenixes, specifically, can only sap at half the rate of a specified phoenix in its ideal environment. The upside to this is that they're not restricted by environment.
-Anything angelic or demonic in nature will have their effectiveness cut by half on Erutios. Yes, it's an absurdly massive nerf in comparison to every other race, but remember just how powerful even one of these kind of fellows are, even if nerfed!
-Dragons' magical capabilities are extremely limited
-Animal-people will tend to succumb to their instincts at certain times.
**More on the way, ask me for details.
Maps
Continental Map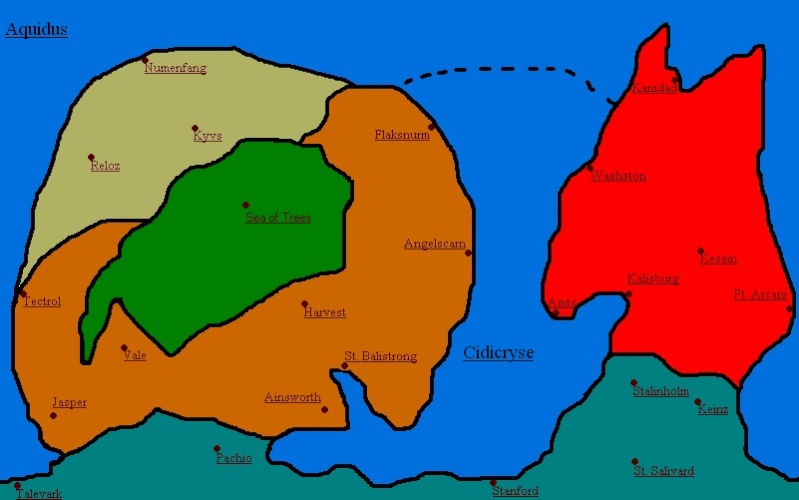 City Map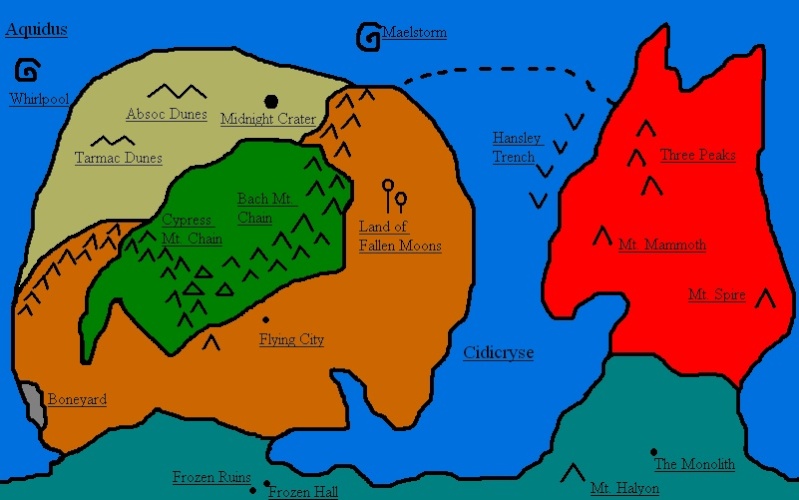 Geographic/Places of Interest Map
Boneyard Map
Continents/Oceans/Moons Details
Kanshin - Sand Rat Bandits
A massive supercontinent of nothing except sand, as far as the eye can see. Few creatures can live in this wasteland, and those that can are well-adapted and often extremely dangerous. However, Kanshin also houses several old ruins created by an unknown civilization in the ages past, and in these ruins awaits traps and treasure. The people of Kanshin generally have a middle-eastern look to them.
Weather Conditions: Sunny most of the time, with random sandstorms and very little precipitation.
Hakari - Mavenrik (
http://allurmage.forumotion.com/t233-the-mavenrik
)
A gigantic forest with several mountain ranges. This is also the primary home of the Mavenriks, which has had no large involvement in the Enlightened/Downwolder conflict up until now. Hakari is filled with many plants, most of which are edible (and actually tastes pretty good, even raw) and those that are not are solid and durable, perfect for temporary building materials.
Weather Conditions: Depending on region, can be anywhere between warm and moist to cold with occasional hailstorms. Generally has mild-climate and rains half the time.
Mu-Arishi - Imperial Airborne/Rebel Airborne
The largest of the five supercontinents, Mu-Arishi is where most of the Enlightened stay. Recently Mu-Arishi has been turned into a massive prison of the Downwolders, but there are sparks of resistance here and there. Mu-Arishi has extremely fertile soil but is almost as barren as Kanshin, the whole continent being just grassland with few hills. In the southwest corner of this massive continent is the Boneyard, a place where undead converge. They don't seem hostile, however. The people of Mu-Arishi look like Caucasians.
Weather Conditions: Sunny 2/3rd of the time and rainy/snowy the rest, warm from spring to summer but is freezing from autumn through winter.
Jirmushi - Argenist Magicians
An arctic continent with nothing except mountains, snow, and ice. Temperatures at highest per day is at -5 degrees, and the lowest per day is -45. The weather is often harsh and the terrain is difficult to navigate through. Mavenriks are also found here because of the extremely rich fossil fuel deposits, various chemicals and the greatest concentration of mana that can be naturally found on Erutios. The people of Jirmushi are also Caucasians, but are often taller and more muscular than the people of Mu-Arishi.
Weather Conditions: Absurdly cold with snow almost all of the time, with little sunlight. Has usually regular snowstorms that can range between 'mild' (Not that bad, just some stronger wind along with heavy snowfall) to 'raging' (Can't see a meter in front of you).
Majin - Communist States of Calidria
A heavily volcanic region, Majin is filled to the brim and over with minerals and ore deposits of all kinds. Majin is a very hostile place, sporting some of the worst weather conditions that can rival Jirmushi's, and its active volcanoes are no help to any who tries to harvest its materials. The people of Majin are a mix of dark-skinned people, such as Africans and North American Aboriginals.
Weather Conditions: Mild to boiling hot depending on region, barely ever has precipitation but can be cloudy often.
Aquidus (Ocean) - Unknown
Aquidus is the largest of the two oceans on Erutios, and the most hostile as well. Being extremely large and deep, Aquidus houses some of the most hostile creatures that can be naturally found on Erutios, most of which are no major problem. After the Downwolders corrupted Aquidus, all of its creatures have become not only more aggressive, but more dangerous. Also, something has been detected at the deepest trench in this ocean in the last few years, which wasn't there before.
Weather Conditions: Generally rough waters and winds, random heavy hailstorms, can be very warm or very cold without warning.
Cidicryse (Ocean) - Merfolk
Cidicryse is the smaller of the two oceans, but also the one that houses most of its more passive species of aquatic creatures, including the Merfolk. Cidicryse has, oddly enough, been barely tainted at all by the Downwolders. Cidicryse, even today, is a beauty to behold, and it is said some of its springs near the coast of this ocean offers great healing powers.
Weather Conditions: Generally calm with mild precipitation and temperature.
Genin (Moon) - Casugari
The size of an E-class Planet, Genin is the only moon orbiting Erutios that can support life on its own. While not inhabited by the various races of Erutios, it seems that the Casugari have taken an interest and has established a second colony there.
Rakik (Moon) - Unknown
Also the size of an E-class Planet, Rakik greatly differs from its sister moon. Rakik is a desolate wasteland with no chance of supporting life without terraforming, little has changed about Rakik since its creation. Recently, in the last hundred years, strange signals have been appearing randomly among Rakik, only to disappear moments after they appear.
History
The Beginning
For thousands of years humans and other creatures, such as Elves, Nekos, Inus, Merfolk and Bird Tengu have lived in harmony. Up until 600 years before present day, all the races were in sync and happy with one another's presence. Then, twelve mysterious mages, deeming themselves the "Argenist Magicians", began revolutionizing this old world. Soon this new fledgeling empire drove out the existing human government.The now-in-exile government, with unknown support, managed to develop rockets to flee to the moon of Genin, where they now reside as the Seredium Federation. The new human empire went about crushing the other now-minority races under the massive, mighty Empire's military heel.
The Crimson Age
A hundred years later, the Crimson Age settled upon the planet. The seas turned red, as with the two moons as a age of madness reigned supreme, with many dominant figures dealing untold destruction across the newly founded empire. The twleve original Magicians banded together once more to rid the world of this menace, this crusade lasting two hundred years, and though the threat have been driven away, the price was very heavy. All twelve Magicians sacrificed their lives to bring peace to the land, and the empire has been weakened and has already begun to splinter. It was also during this age that the dead began to rise on occasion. Up to date, the dead still haven't stopped rising and now number in the billions.
New Nations, New Gods
As the Empire's loyalists flee to the tundra lands of Jirmushi, new nations began springing up and started to fill the vortex of power that the old Empire left in its destruction. As well, new radical ideas began surfacing, and previously thought uninhabitable lands were claimed in the name of humanity. Now the undisputed dominant race of Erutios, the humans began eradicating many minorities. The High Elves, with the damage suffered in the Crimson Age, could no longer defend themselves and were crushed by humanity's armies. The Forest Elves found refuge in Hakari, alongside the creepy Casugari. The Dark Elves created their own sanctuary amongst the Sand Rat Bandits. The Nekos became vagabonds, with no home nor destination, simply wandering the land. The Inu have fought to earn their position of respect amongst human armies, becoming a race of mercenary warriors. The Merfolk have gone in hiding in the depths of Erutios' oceans, disconnected from the world. The Bird Tengu have resorted to becoming bandits and stealing their supplies as their way of living. The undead have formed their own small country, now a protectorate of the deity Scion.
Present Day
Now, Erutios is splintered into six human nations and some minor factions here and there. Four nations are already at war with one another (Namely the Argenist Territories against the Communist States of Calidria, and the Imperial Airborne against the Rebal Airborne), with many fronts that could possibly open up with hostilities rising everywhere. New, strange Cultist groups are on the rise as homicides, unrest, and mysteries rise into startling numbers unseen ever before. A whole new world has been discovered
within Erutios itself!
This is the Erutios of today, a land of chaos and destruction. A land of death and mystery. Now, the final question is...
Who are you going to join?