Lets start with one of my personal favorites.
AC-322 "Hell Rainer" Gunship/Destroyer
The AC-322 Is a Gunship/Destroyer combo measuring in 0.3 miles. It is commonly used in atmosphere as an aerial air-to-ground bombardment strike, and occasionally in space.
Most of the AC-322's armor is coated in a thin layer of a reflective metal, making laser-guided missiles on it go off-course,
and uses several flare systems and interceptors for other guided missile systems.
It also has a moderate Shield-System. This ship is bad news for enemy ground forces.
There are 3 gun turrets on each side of the ship. The AC-322 has 6 special cannons on one such turret;
-25mm TMP-9 Kinetic Gatling Gun. (100 shots)
-50mm FC-109 Plasma Cannon. (6 shots)
-80mm RG-9 "Ballistae" Precision Railgun. (6 shots)
-100mm R-49 Saber round. (2 shots)
-150mm RG-20 Heavy Precision Railgun. (1 shot)
-"Lightning Strike" Precision Plasma Cannon. (Destructive 100% Accuracy Fusion strike whenever the "Lightning Rod" is in place).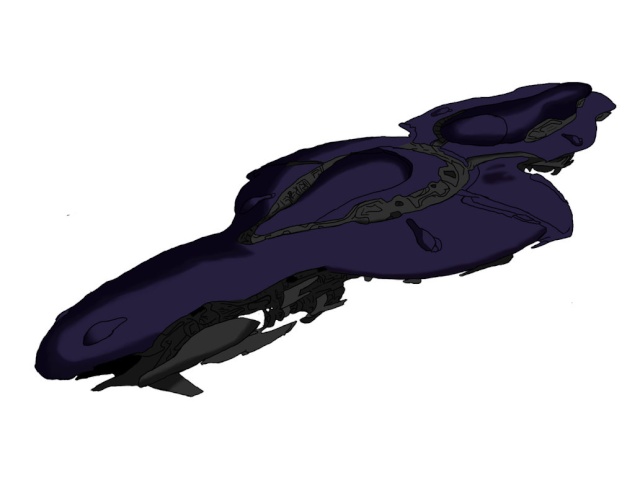 TMX-9 "Phantom" Stealthship/Dropship
This ship earned it's namesake due to its ability to appear virtually invisible to almost all forms of detection, some of which it can't hide from is plain vision and IR sights, and
the Phantom also has a personal cloak field. It can hold up to 30 men and one vehicle, depending on the vehicle. It carries no personal shield system but is well armored and
holds 4 interceptor drones inside of it to block blind-fired rockets. It has a frontal Chaingun with a 2-canister Rocket Launcher next to it. Panels under the wings may be opened
up to fire out of, which also comes equipped with an attached turret. And lastly, two ports next to the cockpit may open up to fire 40mm Vulcan Cannons.
This is a commonly used transporter on the field.
MRV-22 "Dakken" Support/Attack Copter
The Dakken is an efficient and powerful Attack Helicopter equipped with rail guns, gatling guns, and rocket launchers. It holds a single pilot and can carry 6 additional troops.
It's attached rail gun, featuring a 60 mm slug, is commonly used for taking out medium to light vehicles, such as armored cars, some tanks, and especially mechs. It has no shield system but
is efficiently armored. Other weaponry includes two 30 mm Uranium 'Death Machine' Gatling Guns, and 24 100 mm Stinger Rockets.
The Dakken is a project from salvaged technology from the ancient Dur'Armari, and is most notable for the 3 sets of rotors it has, which they call a Tri-Rotor system, which allows it to take off incredibly fast, fly very fast and is very agile in strafing side-to-side to avoid incoming fire.
New, more advanced versions have the ability to apply afterburners, where the Helicopter alters into a kind of Speed-Based Jet. Maximum speed is 2000 MPH.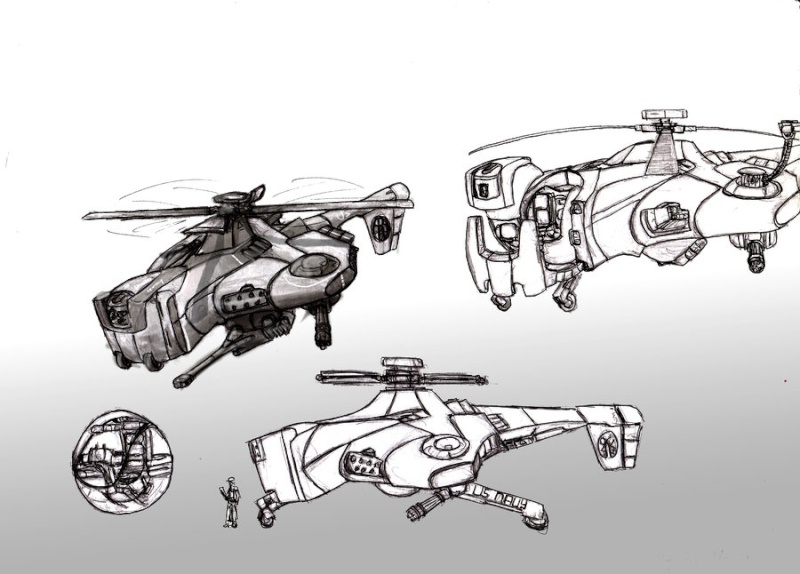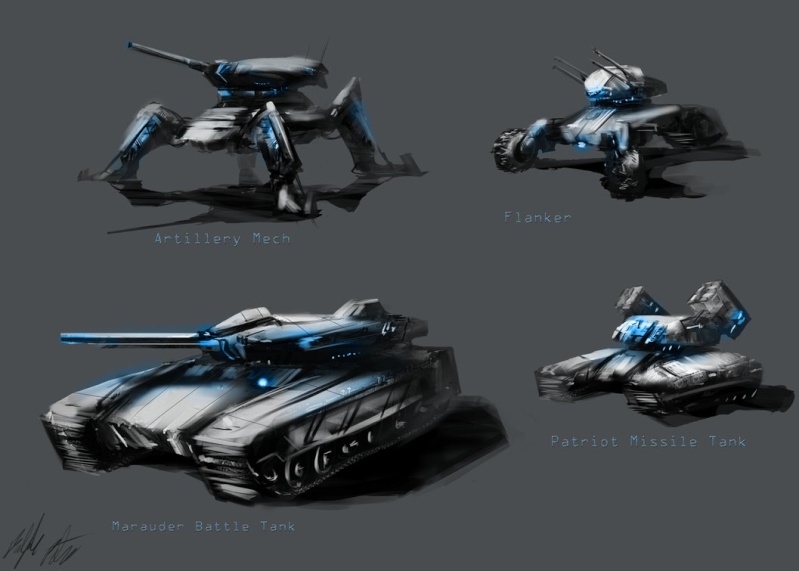 Order: (Top Left, Top Right, Bottom Left Bottom Right)
1 - PSR-10 LongRange Artillery Mech
Equipped with a coilgun that fires 70 mm slugs, this mech is designed for taking out long range high priority targets, such as snipers, other mechs, tanks, and landed aircraft.
The body is well armored, however the legs are vulnerable. This doesn't mean it is easily defeated; it has other vehicles or infantry protecting it.
2 - MPR-9 MG APC
This vehicle carries
6
35 mm High Powered Machine Guns. It is mostly an Anti-Air Anti-Infantry vehicle, as most of its rounds probably won't penetrate tanks or heavy vehicles.
The MPR is one of the few car-based vehicles to use wheels, and is well armored from missiles and enemy fire. It can carry 10 additional troops into battle, not including the 3 needed to operate it.
3 - TMZ-7 Heavy Tank
Equipped with a .50 cal MG attached turret, and a 120 mm Railgun with a smaller 20 mm coilgun MG , this tank is a deadly force on the battlefield. It is extremely well armored from almost any attack,
except for mass strikes (nukes, orbital strikes, etc). These tanks will most likely be seen attacking in groups of 3-4s or individually, protected by a squad of Advanced Infantry groups.
4 - MTR Missile Tank
This tank fires 'Stinger' Rockets that home either from laser sights or heat seekers. It is designed only for Anti-Aircraft roles, and may be seen protecting areas that the enemy might use
for landing zones. 2 or 3 of these may be seen protecting such a zone, protected by infantry.