Chapter 5: Divine Intervention
When the god died, his pure energy was unleashed upon the second universe.
Eventually, it started to form into shapes reflecting the energy the bolt was made of.
Thus, many gods were born. These gods looked upon this Earth in disgust, and immediately obliterated the evil that inhabited it.
Soon, they became bored with nothing to do.
The god of life was the first to create a new species on the still blossoming Earth, known as the Amarina, or "Flower Folk" in the old tongue.
The other gods, including the god of death, the god of chaos, and the god of remorse each wanted their own species on this world.
The life god did not allow the god of death, chaos, or remorse to create a species, but the god of joy, and the god of elements both were allowed a species on this planet.
The list of species on this planet was now:
Joy- M'karr, or "Sand-Dancers" Who danced in the desert to bring joy to the daisy folk unfortunate enough to wander into there.
Elements- Garankanar, or "Stone Goliath", lumbering around creating the very stone they stand on.
Life- Amarina, the "daisy folk"
The god of death, chaos, and remorse were not pleased to have no creature of their own.
Before the life god knew it, she was pinned by the three of them and some of her power taken into an orb.
The three gods used the orb to create their own warped and twisted creatures.
The god of destruction, unleashing his creativity for disorder, created the Emerentians, or
"Death Folk", to unleash torment on this world.
The god of death used the dead to create his own creatures, the Orun, or "Reborn".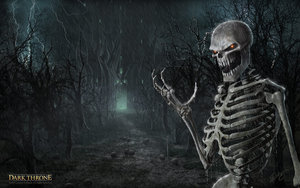 The Orun can choose to be good or evil, they are simply the reincarnations of lost souls.
The god of remorse created the worst of all: the Ferej, or "Suffering". The ferej feel remorse in whatever action they do, whether it be good or bad. the Ferej are doomed to eternal suffering, and this fed the being Chaos heavily.
End of chapter 5